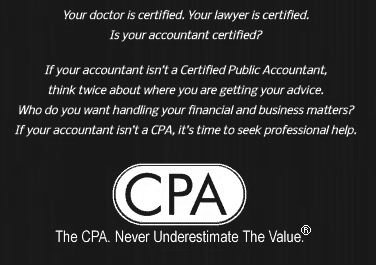 You might already have an accountant, but do they truly understand you and/or your business?  Are you getting the most bang for your buck?
Do you spend money every year on an off-the-shelf tax solution or a national franchisee that you aren't sure you fully trust?  Who would you rather trust preparing your return: you, a seasonal employee with 8-12 weeks of experience or a licensed tax professional?
If any of those questions made you second guess your previous decisions, please feel free to check out the variety of services that I offer!
Individual Tax Preparation: Preparing your own taxes can be time consuming, a pain and sometimes more trouble than its worth.  Maybe its time to discuss your situation with someone who actually enjoys crunching numbers.
Rates start at $450+ for Federal and State individual returns.
Small Business or Self-Employed Tax Preparation: Are your books a mess?  Stressed about finances when you should be focusing on what really motives you – your business!  Maybe its time to have someone help you focus and get you on the right track!
Rates start at $550+ for Federal and State business returns or Federal and State individual returns with Schedule Cs for Self-Employed individuals.
IRS Notice Review & Response: Did you receive a discrepancy notice in the mail from the Internal Revenue Service?  Did the Internal Revenue Service make changes to a previously filed return?  Not even sure what it says?  Do NOT panic.  The Internal Revenue Service sends millions of discrepancy letters a year for a variety of reasons, but not responding can cause a lot of problems.  Do NOT wait or hesitate to seek out help!
Rates start at $350+ for Audit Notice Review and Response.
IRS Audit Preparation: Did you receive an audit letter in the mail from the Internal Revenue Services? Is your heart racing yet?  Audits are very complicated and the Internal Revenue Service examiners are thoroughly trained to drag you through the process and leave no stone untouched.  Wouldn't you want someone on your side that have been through the process before?  I can handle the audit for you without you even having to deal with an examiner (unless you want to!).  Let me handle the paperwork, meetings and due diligence work to get you the best possible outcome for your situation.
Rates start at $1000+ for Audit Representation. 
Business Development Consulting: Is your business stuck in a rut?  Is your business just not what you want it to be at the moment?  Need a brainstorming session to get your business off the ground?  Need a review of all your finance to know where you stand?  Sick of asking your spouse, mate or friends for help?  Let me be your business wake up call that will help you learn that being passionate about your business or product is a great start, but it might not be enough to be successful without the right accounting foundation in place.
Rates start per hour and depend on complexity.  Please email for current rates.